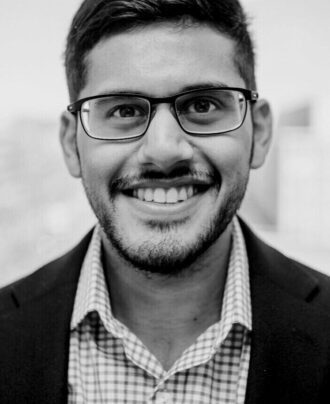 Associate
Director
Anurag serves as an Associate Director with the Research and Insights team. He works to develop, execute, and analyze quantitative and qualitative research to mine valuable insights for clients looking for strategic guidance in navigating the vast landscape of public opinion. Prior to joining Breakwater Strategy, Anurag worked for several years at various market research and analytics firms, including GfK, Greenwald Research, and IRi. During his time at these companies, Anurag oversaw and supported a plethora of diverse research projects and initiatives, from brand and advertising tracking to market access mapping and more. He is adept at proposal production, survey and discussion guide conception, data infrastructure management, and insight delivery through a wide array of reporting mediums.
Before joining Breakwater Strategy, Anurag spent nearly four years in the creative writing and publishing space. While earning his Master of Fine Arts in Creative Writing at the University of Colorado, Anurag served as a graduate research assistant with the Ritual Arts and Pedagogy Lab, as well as a graduate teaching assistant with the English Department. During his three-year tenure, he published multiple short stories and wrote his first book, a fictional coming-of-age novella titled Submarine (Split/Lip Press, 2022).
Anurag holds his Bachelor of Arts in Economics and Psychology from the University of Pittsburgh. He was born in Brooklyn, NY and grew up in Bridgewater, NJ. He is a die-hard Philadelphia Eagles fan, still basking in the glory of Superbowl LII yet constantly nitpicking at their yearly draft choices. In his spare time, Anurag enjoys a good hike followed by a good beer, writing his next novel, watching and talking football, and spending time with his wife, friends and family.