Whether to escape to another reality, test the limits of our own, or just better understand ourselves and the world we inhabit, the Breakwater staff collectively explored dozens of great books this year.
Here's 13 that made us think:
Meditation for Fidgety Skeptics by Dan Harris
Shea Agnew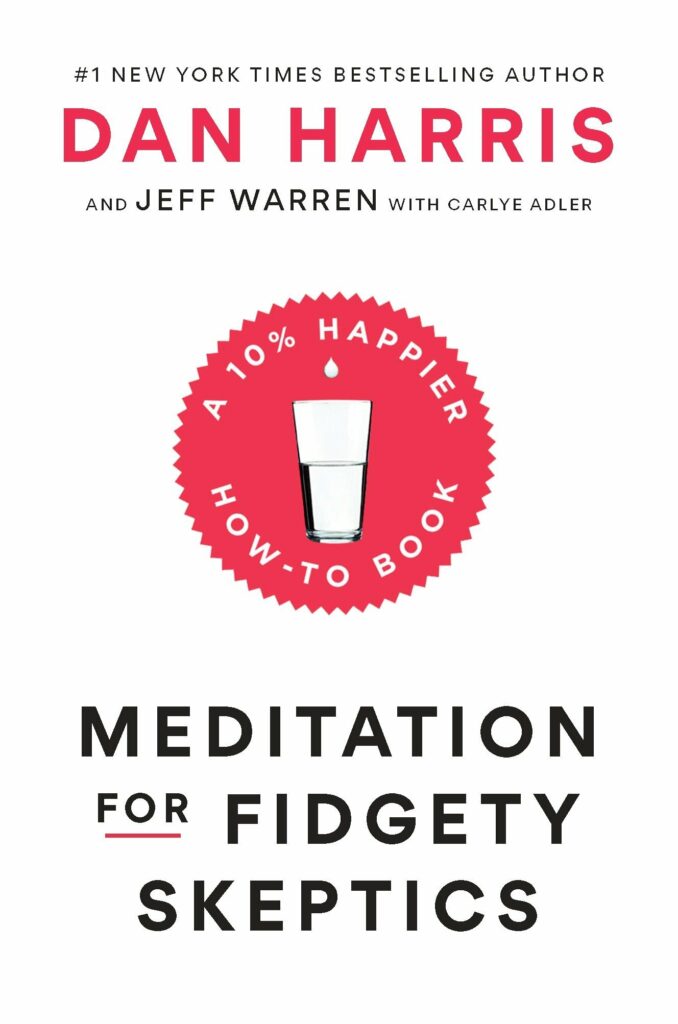 Dan Harris's path from up-and-coming, cocaine-fuelled newscaster at ABC to roadtripping meditation proselyte offers universal lessons in awareness, compassion, and –– in the author's words –– "not being an asshole". In Meditation for Fidgety Skeptics, Harris takes the lessons from his 10% Happier guide on the road, breaking through the bicoastal elitist stigma associated with mindfulness and bringing meditation to middle America. Delivered with Harris's trademark wit (and on Audible, the gravelly comfort of an anchorman's voice), the lessons within are invaluable for those who have tried meditation and failed –– and worse yet, uselessly ruminated on that failure, distracted by a futile attempt to "clear" the mind. Transforming that rumination into what Harris calls "constructive anguish" can put you on a path to becoming a better person to your loved ones, colleagues, and those who you've yet to meet. Because whether you yearn for self-improvement or to help others, getting your own shit together is the best way to start.
Noise: A Flaw of Human Judgment by Daniel Kahneman, Oliver Sibony, and Cass Sunstein
Arik Ben-Zvi
Judgments. We humans make them every day. We are generally terrible at it. And we don't even know it. That is the essential message of "Noise: A Flaw in Human Judgment" from Nobel-prize laureate Daniel Kahneman, Oliver Sibony and Cass Sunstein. In straight-forward, accessible prose, the authors describe the vast research which supports the conclusion that "where there's judgment, there's noise – and more of it than you think." Helpfully, the book offers practical ideas for how individuals and organizations can reduce the biases and noise that infects our judgment, hopefully leading to more consistent, fair and reliable decision making. What could be a better New Year's resolution than that?
21 Lessons for the 21st Century by Yuval Noah Harari
Jin Kang
What are going to be the most defining issues of our time? Yuval Noah Harari's masterpiece poses this question and then attempts to answer it, in a highly approachable and coherent manner. His discussion on the fate of free will as we know it was particularly compelling to me. As technology pervades every aspect of our lives, the concept of liberty and morality will change from a distinctly human trait to something that will need to be programmed. Algorithms will be forced to make ethical decisions, as Harari points out, and who are we to disagree with them? There are 20 more compelling discussions like the one I have attempted to describe that are sure to stimulate any dinner conversation.
Beautiful World, Where Are You by Sally Rooney
Devin Kiernan
Ever since reading Normal People I have been on the prowl for a new Sally Rooney book. Although the characters are in or nearing their thirties, I still feel it is a truly coming-of-age book. The chapters move from one character to the other, each separated by emails exchanged between Elise and Alice, two women contemplating the meaning of relationships, with themselves, romantic partners, family, friends and the world around them. As a twenty-something stuck between Millennial and Gen Z, this book made me feel a little less alone. It normalizes having all the questions and none of the answers and teaches how to live in the moment.
Bravey by Alexi Pappas (tw // suicide)
Caryn Leahy
This was one of those books that everyone in my social media feed was touting long before it was released. Athletes. Writers. Comedians. And it's no surprise. Alexi Pappas is nothing if not dynamic – she's an Olympic runner, writer, actress, and filmmaker, all despite losing her mom to suicide as a four-year-old. How's that for resilience? Her beautiful memoir lives up to the hype. It's as gut wrenching as it is uplifting. It'll make you laugh. It'll make you cry. But most of all, it'll inspire you to be brave and go after your dreams.
Know My Name by Chanel Miller (tw // sexual assault)
Lydie Neill
This year was the year of the memoirs for me. From listening to comedians' audiobooks and actors' life stories, the first person narratives intrigued me. But the one that impacted me the most was Chanel Miller's story. Every word in her memoir is honest, captivating, heartbreaking, yet empowering. Chanel beautifully articulates a devastating, inexplicable experience that no one should ever have to live through. Yet she did. And she knows the hard truth that others have gone through similar inexplicable battles, being made to feel like they are the ones that committed a crime. Her strength shows on each page, sharing her darkest days and most vulnerable moments, along with her incredible support network and resiliency. I'm sure many remember reading Chanel's testimony in court a few years ago. I'm so grateful to now know her name and celebrate her strength.
Chocolate City: A History of Race and Democracy in the Nation's Capital by Chris Myers Asch and George Derek Musgrove
Nick Rosenberg
Washington, DC has played backdrop to the biggest moments in our country's political history, but until reading this book by Chris Myers Asch and George Derek Musgrove, I did not truly appreciate the extent to which the city evolved as the nation grappled with topics like race and the role of all citizens in our democracy. The authors are able to humanize historical events playing out on the national level by exploring interesting personal anecdotes about important Washingtonians. This book offers compelling details about DC's history, while highlighting the people who influenced the city along the way. It helps explain why the city occupies such a unique physical and symbolic position in our country.
The Woman in the Window by A.J. Finn
Karianna Torres
During my time at Hamilton College, I've had an interesting relationship with reading. I majored in Literature, which meant that I would read 20+ books a semester, dissect them word for word, and think about how I can write a compelling paper. This meant I forgot how to read for pleasure and saw anything I read as an assignment. Thankfully, this book helped me change my mindset and enjoy a book for simply being a book.
Finn creates an interesting psychological thriller about Anna Fox, a child psychologist who suffers from agoraphobia (fear of open or crowded spaces) and does not leave her apartment. She spends her day drinking wine, popping pills, and studying her neighbors. One night she witnesses a crime, but no one believes her. As a reader, you go through this internal battle—did Anna actually witness a crime or did her medication plus wine make her hallucinate? For true literary critics, it's not the best book in the world since Finn rushes the last hundred pages to achieve a perfect ending—but it's an easy read that gets you thinking.
The Midnight Library by Matt Haig (tw // suicide)
Nora Wahlbrink
Reading The Alchemist by Paulo Coelho was a refreshing and unique experience for me. I had never read such a genre-bending novel – one that is both engrossing fantasy and introspective self-help simultaneously. I wondered if I'd ever come across a book like that again. Then, I came across The Midnight Library. It's a captivating tale about a regretful woman who makes the ultimate decision to die by suicide, only to find she has infinite more chances in the space between life and death. Whether you're struggling with depression, feeling a bit lost or you're just in the mood for a fascinating read, anyone can get something valuable from this story of a woman on a quest to retrace her most consequential mistakes and find her perfect life – if such a thing exists.
A Thousand Brains: A new Theory of intelligence by Jeff Hawkins
Steve Weber
The contemporary debate over how to design a truly intelligent machine has been going on for decades, but here we are again in the modern era of AI. It's partly a philosophical and partly a biological argument, but it can't possibly be settled until we have a better definition of what constitutes human intelligence and a testable explanation of how the brain generates it. This may not be the only way to get to artificial generalized intelligence (AGI) and machines that can match or exceed humans on more than very narrow and precisely specified tasks – but evolution has proven that it's one way to get there. Jeff Hawkins in this book presents a compelling theory of general intelligence that specifies how the human cortex builds models of the world in multiple columns of neurons. Sounds complicated and maybe even dry, but the book is anything but. It's written in plain English, with simple and concrete explanations and examples that lay out Hawkins' theory and the evidence that supports it. It's a great read, even if it over-reaches a bit toward science fiction-y extensions at the end.
And if theories of intelligence are not your thing, Michael Connolly's latest, The Dark Hours, is the state of the art in Los Angeles-based police procedurals. It's hard to imagine how this could be, but Connolly's writing keeps getting better, more taut and compelling with each novel, regardless of whether Harry Bosch has truly retired.
A Man Called Ove by Fredrik Backman
Ben Williams
I was a few years late to this book, but its message about the impact that kindness and understanding can have on one person, or an entire community, is worth returning to anytime. Even though he seems angry and grumpy all the time – and pretty much is – Ove is also pure of heart and has a great story, if you take the time and space to understand it. In our fast-paced world it can be really easy to jump to conclusions and judgment, but, if anything, Ove shows us how empathy and a little patience can reveal the truly wonderful qualities of people around us. More of that, I think, would make us all a bit happier. Plus, it will make you laugh – if you give it a chance.
Boy Swallows Universe by Trent Dalton
Claire Wootton
For me, 2021 meant finally making my way through the ever-growing pile of "haven't gotten to it" books, and Trent Dalton's Boy Swallows Universe was the one I instantly regretted taking so long to get to. Set in Brisbane in 1983, the book follows 12-year-old Eli Bell as he grows up and navigates a rough life, finding the good in the arguably dark world around him. It's one of those books that manages to be a little bit of everything: it's clever, it's funny, it's sad, it's heartwarming, and somehow also heartbreaking. The quirky prose takes a little to get used to, and at times the violence is aggressive, but I set the book down wishing I could see a bit more of the world through Dalton — and in turn Eli's — eyes.
Red Rising by Pierce Brown
Jim Wyderko
Another year, another piece of dystopian science fiction – a genre that seems ever more fitting as the years toll on. While I was late to the party with Pierce Brown's 2014 epic, I'm so glad it made the shift from bookshelf to bedside table. It's a story about what happens after realizing a grim truth about the world, one that upends our original conception of our surroundings and history. Do we sit idly by and succumb ourselves to helplessness? Or do we take action in any way we can to fight for a better world? For those who are looking for a story that's equal parts Hunger Games and Harry Potter with a sprinkle of even more class conflict, this is the one for you.
Want to stay updated on the latest insights from BWS?